tradensea
ACKNOWLEDGMENTS
Excellent for automated support and resistance levels, HODL, RSI, MA, GAP strategies. You can set it to execute once, multiple times or even unlimited transactions.
100 magyar találmány
The best software and systems always solve an existing problem and help you move forward. Tradensea is an automatable cryptocurrency trading system that helps eliminate barriers.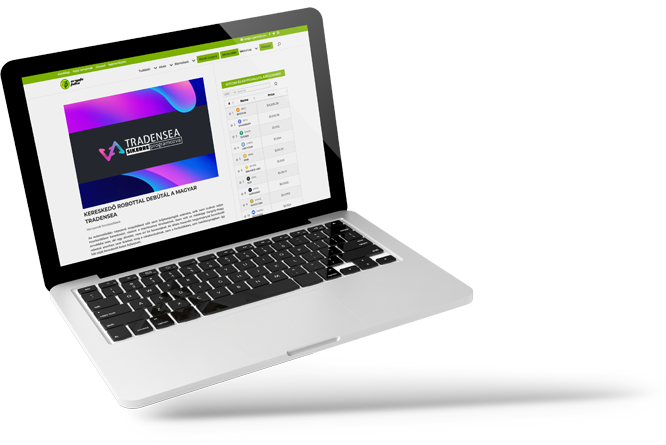 Cryptofalka
Automation has become a popular solution for crypto-enthusiasts who can't trade full-time but want to maximize it. It was no different with Arnold Gergely-Nagy, who decided that he would not settle for less.
Haszon magazin
The story of Tradensea began in 2017, when entrepreneur and creative innovator ARNOLD GERGELY-NAGY met Crypto Exchange, which he immediately fell in love with. Several well-known traders on the market tried robots, but most of them were too manually controlled or had few automatic and safety functions, so he could not 'leave them alone'.
Haszon magazine 2023
The weakness of the crypto market is a serious opportunity for the Tradensea trading bot. If it operates in a bear market, it can hold its own at any time.
DO YOU LIKE THE IDEA?
Try it risk-free
Are you brave enough to make your first trade? With our demo trading you can try your hand at crypto trading robots for free, whether you're a beginner or an advanced trader. Set up your own strategy and see how it performs in the market. Follow our guides! Don't give up! We want to hold your hand while you make your first trades so we've created instructional videos and guides to give you as much information as possible before you start your first trade. Your success is our success!
Sign up